This is our first crypto blog post from HK Bitcoin ATM. The idea is to share our view not only to the experienced crypto gurus but more importantly to those who might not have bought any Bitcoin and are bombarded by hypes on the news e.g. government officials, business decision makers and ordinary world citizens. The last thing we want is for the government to ban crypto in Hong Kong due to inaccurate information.
It will be hard not to touch upon Bitcoin price when it is rising exponentially weekly. However, will try our best not to give any trading advise. Investment mentality and fundamentals are much more important to be successful.
P.S. Please don't judge our grammar. It is just something we won't be good at.
So here we go …
The FUD gate is open
7th January 2021
Bitcoin price has a pretty predictable four-year cycle. I don't want to go into the detail here. You just have to pull up a ten-year price chart and you can easily see the trend. At the beginning of the bull run news media will list a number of reasons for the rise of Bitcoin. Here are some examples: big corporation buying up the Bitcoin from the miners, MicroStrategy twitted Elon Musk and had convinced him to buy Bitcoin, some high-ranking Chinese officials are opening a Bitcoin trading company in Hong Kong, Institutional adoption, etc etc.
We just want to say that we have seen all that before in the last bull cycle between 2014-2018. The crypto world has some unique behaviors. These news are there to create Fear, Uncertainty, Doubt aka FUD and trigger Fear Of Missing Out aka FOMO. What these FUD creators don't realise is the price will rise no matter what they do or don't do. Someone once asked us in 2015 why the price of Bitcoin will rise, our answer was there is no reason. It will just rise an lower due to market cycle. Just like the weather.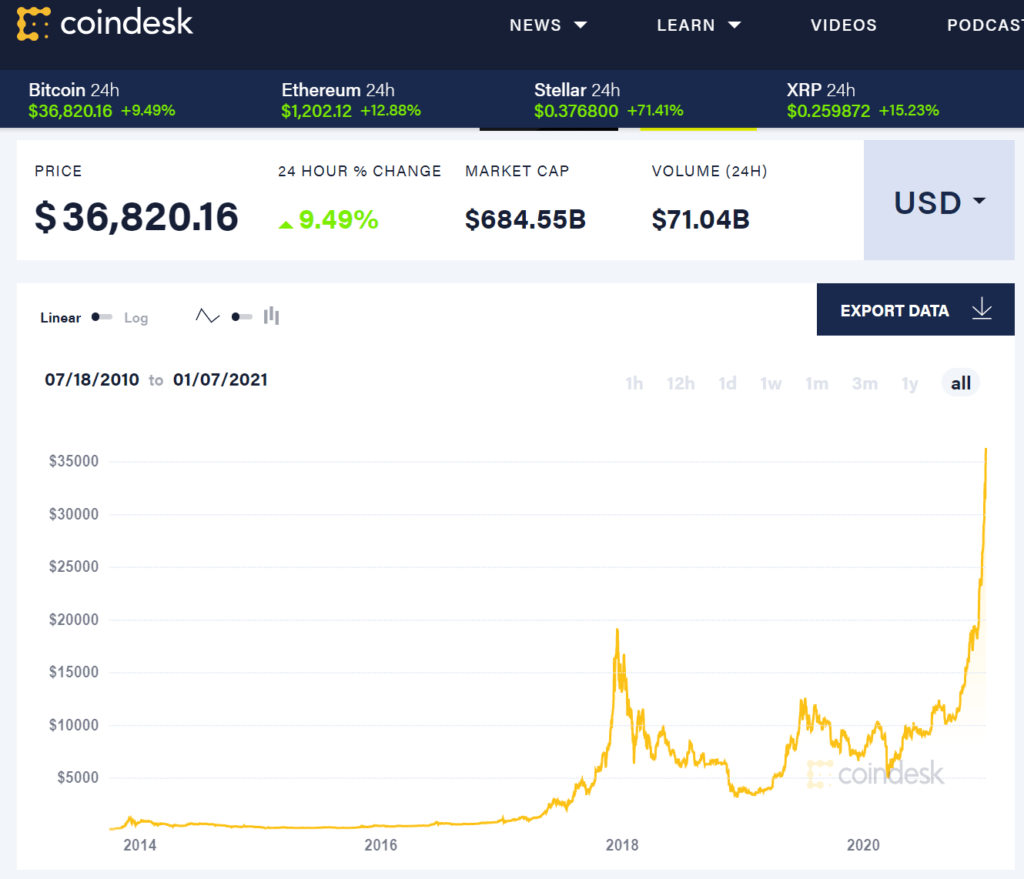 In 2014 we have crypto stars like John McCarthy telling everyone that Bitcoin will reach $1M price tag. Some people think that if a famous person like McCarthy says it then it might happen. Of course, his prediction didn't come true. We also have the Winklevoss twins (who started Facebook with Mark Zuckerberg and since then bought a lot of Bitcoin). Now we have Elon Musk or at least they are trying to get in onboard and Elon was like sure we will take a look. P.S. Elon does not believe in Bitcoin. As for institutional buying, they were buying Bitcoin since 2018 but that didn't stop the inevitable Bitcoin decline. If anything I believe Bitcoin ETF not backed by real Bitcoin hampers the price of Bitcoin growth because it captures money that would otherwise buy Bitcoin. Non Bitcoin backed ETF are created infinitely out of thin air.
Finally, today's wise investment take away is HODL. For those who are relatively new to Bitcoin. Historically, the best strategy has been to HODL and then off load 80% of the portfolio after the four-years cycle. It beats scamming people, GPU mining, investing for others, P2P trading. Just buy and sleep how hard can it get? The risk of losing all your gains from these activities is high.
Hodl
 is slang in the 
cryptocurrency
 community for 
holding
 the cryptocurrency rather than selling it. A person who does this is known as a Hodler. It originated in a December 2013 post on the Bitcoin Forum message board by an apparently inebriated user who posted with a typo in the subject, "I AM HODLING." It is often 
backronymed
 to "hold on for dear life". life"